Chelsmford Auto Repair
Pelletier's Auto Repair near Chelsmford for top auto repair services
Pelletier's Auto Repair is a full-service auto repair shop serving Chelsmford, MA. From brakes to oil changes, no matter what brand, make or model you drive, we have pro mechanics ready to get your auto repairs done right the first time and get you back on the road fast.
Come by and check out our shop near Chelsmford! From our easy check-in and check-out processes to our top of the line repair and maintenance services, Pelletier's Auto Repair goes the extra mile to ensure that you will always recommend us when someone in Chelsmford asks you, "Where do you go to get your car services?"
Call 978-876-3158 and discover why Pelletier's Auto Repair is the best choice near Chelsmford for auto repairs.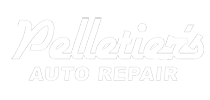 Dracut, MA
Brought my Honda Civic to Mark Pelletier for new brakes, thought I needed front and back, turned out only front. Also lights on dash that were indicating problems. Happy to say he fixed all and my car is 100% in tiptop shape. Great mechanic, honest, reliable and you don't have to worry about being taken. My defroster was making a loud noise and could only bring it up a notch or 2. Thought the motor was gone, but come to find out it was chipmunks or squirrels making a surprise nest. Once again Mark cleared that up and it wasn't the motor after all. Saved me some money!! Oh and he has a great smile and is very personable and takes care of his customers. Thanks Mark! Highly recommend
Celine Beaudry
, 03/01/2021